Year-end comes with Christmas celebrations, holidays, and tax preparations! Business managers have the responsibility of handling year-end payroll. W2, alternatively known as the Wage and Tax Statement, is the annual form required to be sent out to employees earning more than $600 (in most states).
The Intuit Workforce Portal plays an important role in delivering W2 forms to your employees. However, not all employers and employees are set up with Intuit workforce access. This also helps your employees view their pay stubs online.
A survey conducted by our customer experience team reveals that more than 78% of QuickBooks users use the reprint W2 forms feature in QuickBooks to send the W2 forms to their employees.
In this article, we have illustrated quick and easy steps to access W2 forms to print and share with employees. We have covered steps for QuickBooks Desktop Pro, Premier, and Enterprise, along with QuickBooks Online. This article will help you get W2 forms even if you do not have an active payroll subscription with QuickBooks.
Create W2 in QuickBooks Desktop
Follow below steps to create W2 forms in QuickBooks without hassle:
Click Employees tab from top menu bar, then click Payroll Tax Forms and W-2s.
Now select Process Payroll Forms
From File Forms, chose Annual Form W-2/W-3 – Wage and Tax Statement/Transmittal
Now, click Create Form
Let's Find W2 in QuickBooks Online?
QuickBooks Online let you e-file and print W2 if you have processed at least one payroll in the financial year. Payroll is additional paid service apart from QuickBooks Online subscription. Navigating to the W2 forms in QuickBooks online is quite simple and user friendly.
Move your cursor to the Taxes tab which would populate the Payroll Taxes option.
Click Payroll Taxes
Look for Forms tab, beside Tax Payments
Click on the relevant year such as 2023 second quarter.
Click on W2 Copies B, C & 2
You may save or print this copies as pdf file for your records and share with your employees.
How to print w2 in QuickBooks without payroll subscription?
If you did not subscribe to Intuit Payroll Services and doing the DIY payroll also known as Intuit QuickBooks Basic Payroll Services, you might be struggling to print or share the W2 for your employee.
If you have a family small business and you have listed your self as an employee for your company, you can print the W2 forms from QuickBooks. This is to be noted that you would not be able to print more than one W2 form if you have basic version of payroll. You need to have enhanced or Assisted payroll to print W2 for multiple employees in a year.
Intuit do not charge additional fee for printing W2 forms, and you may save pdf or print required W2 forms in any quantity and any number of times.
How to reprint W-2 in QuickBooks Desktop?
IRS requires every registered business to file W2 forms for their employees to whom non-cash payment of $600 or more is issues in a financial year. Standard deadline for sharing the W2 with employees is January 31st every year.
QuickBooks users can easily create and print W2 forms for current and last year if they have active payroll subscription.
Intuit QuickBooks Desktop Payroll Standard and Enhanced-
Note: You will need 3 sectioned blank perforated paper or pre-printed paper to print W2 forms.
Step 1. Updating QuickBooks
Go to Help on the top menu-bar.
Click on Update QuickBooks Desktop.
Now switch to Update Now tab.
Click the Get Updates Tab and wait for updates to complete.
Restart your QuickBooks if prompted.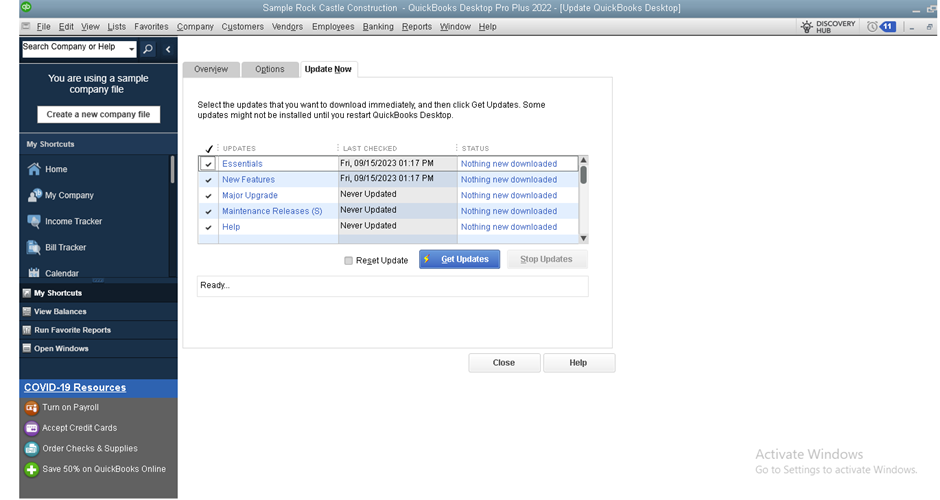 Step 2. Print W2s in QuickBooks Desktop
Sign into the company file as admin
From homepage of your QuickBooks click on Payroll Center
You will now be taken to the Payroll tab automatically
On the right side of the screen click File Forms.
Scroll down and select Annual Form W-2/W-3 – Wage and Tax Statement/ Transmittal
Now click on Create Form
You need to choose the employee for whom W2 is required
You may select one or more employees here
Now choose the desired year for which you need W2 and Click OK
Select review and edit to verify the information in the form
Submit form and Click print to print the copies.
How To e-file W2 in QuickBooks desktop
From year 2023, If you have 10 or more employees for whom W2 need to filed, IRS had mandated to file them electronically.
Payroll Service
W-2 Filing Options
QuickBooks Online Payroll
QuickBooks DIY Payroll
Cannot file W-2 forms
QuickBooks Core, Premium, Elite
Intuit files W-2 for you and sends to employees
QuickBooks Desktop Payroll
QuickBooks Basic Payroll
Cannot file W-2 forms
QuickBooks Desktop Enhanced Payroll
File W-2 manually from QuickBooks
QuickBooks Assisted Payroll
Intuit files W-2 for you and sends to employees
A Little Bit More About the W-2 Form?
A W-2 form is a form that shows the amount of tax that has been held back from your paycheck for the year and is used to file your state and federal taxes.
The Internal Revenue Service, mainly called the IRS, needs employers to report the wages and salaries of their employees on the W-2 form. This information is essential when you prepare for your tax return. Therefore, the IRS has made it mandatory for all employers to send the W-2 to their employees before January 31st, as it is the close of the tax year and ensures that it is on time.
The W-2 form is divided into multiple boxes that contain information regarding your items related to income. For example, box 1 contains your annual wages and salary payments, including the amount of federal tax withheld from them in box 2. Box 3 reports an amount that is less than your entire wages for the year. And all the other boxes have your wages subject to social security tax, state income tax, and Medicare tax, only if relevant.
IRS W2 Forms Printing Demands For QuickBooks Online
IRS demands only 4-up blank printable forms for employees.
Usage of only non-reflective black ink to print W-2 forms.
Only use Intuit online payroll or QuickBooks online payroll.
Important: Preprinted W2 forms are not for QuickBooks Online.
What are the ways to print W2 QuickBooks Online?
Built-in feature to print W2 forms in QuickBooks is available only in the latest payroll version or in the basic version. Therefore, before proceeding with the steps, select the paper you will use to print W2 in company payroll preferences.
From the settings, click on Payroll settings.
In the preference column, choose the proper W2 printing option.
To print W2 QuickBooks Online.
Open QuickBooks online, go to the Taxes tab, and then to the payroll tax option.
From the forms, tap on Annual forms.
After that, choose one of the options from the drop-down menu, i.e., all employees or only one employee name.
Now, select W-2, Copies B, C, and 2 to open the printable employee copy.
Further, go to the period menu and select the correct date range.
At last, click on View to check the printed form and hit the printer icon.
Note: W-2 Copy B is for the federal/IRS tax filling, Copy C is for employees to keep it as a record, and Copy 2 is for the state or local agencies.
Another Ways to Print W2 in QuickBooks Desktop?
The steps are not as easy as for QuickBooks online; you must execute all the steps mentioned very carefully.
STEP 1: Open W-2 forms in QB Desktop 
At first, go to Employees and then click on payroll tax forms and W-2s.
Now, click on the payroll forms.
After that, select the annual form W-2/W-3 wage and tax statement transmittal.
Hit create form button.
If you wish to file the forms of every employee, then choose all employees, also tap on the employee's last name.
Further, add the year of the form that you want to print, hit OK.
Note: QuickBooks desktop allows you to have the one version of the tax form only, i.e., if you have the 2017 version form, but you want to print W-2 forms for 2016, then only use the newer version of the form.
Next, select the employees for printing the form.
If you reviewed all the W-2 forms, hit review/edit and then select submit form for proceeding with the printing procedure.
In the end, don't forget to tap on print/e-file.
STEP 2: Select the paper type & item to print W-2 forms window 
To start with, choose between blank paper & preprinted forms.
After that, decide for whom you want to print from the select item to print option.
In the case of employees
If using blank paper:
Select 3 per page for copies B, 2, and C.
Select 4 per page for copies B, 2, 2, and C.
If the instructions are not preprinted on the paper, choose the employee filling instructions as it is required.
In case of Employer
W-2 Copy D, 1 page per employee for employer's record.
For W-2 forms, select employer filing instructions.
In case of Government
W-2 Copy A, 2 per page for SSA (Social Security Administration)
W-2 Copy 1, 2 per page for state and local tax department.
Important: If you filled forms electronically with the SSA, then mailing Copy A is not mandatory.
STEP 3 – Export the form to a PDF reader
First of all, you need to do a print test if you are using preprinted forms.
After that, tap on the print PDF.
At last, start the printing procedure.
IRS Demands For Reprinting Employees W2 Forms in QuickBooks
Before reprinting W2 for employees, ensure that the payroll tax table is upgraded to the latest version
It is mandatory to attach copies of 2, B, and C.
Providing a copy of the W2 form filing instructions is compulsory.
W2 form must include the word Reissued Statement in it.
Substitute method to reprint W2 in QuickBooks
Here is the other method to reprint W-2 in QB. Listed below are the steps:
First of all, from the employees, click on payroll tax forms and then W2.
Next, choose process payroll forms and then select filings from the filing history option.
From the history column, decide the form you wish to print first. Select the link from the saved PDF column.
To complete the task, hit the print icon.
To get the information of the last year W2 form
Go to the reports menu.
Now, choose Employees & payroll and then click on more payroll reports in Excel.
Move your cursor to tax form worksheets and click on them.
Next, go to the downloaded excel file, choose the annual W2.
If you want to reprint W2 of the last year, then you can modify the year if required.
Finally, hit create report.
FAQ's (Frequently Asked Questions)
Question 1: How to reissue W2 in QuickBooks?
Answer: yes, you can definitely reissue W2 in QB from the archived forms section and then print a copy of the tax form. Follow the steps below:
Initially, take your cursor to the Taxes menu and hit payroll tax.
From the Annual forms, select view & print archived forms.
Now, check the W-2 copies and hit enter.
In the end, select View and print the tax form.
Question 2: How to print W2 in QuickBooks 2017
Answer: Follow the steps mentioned below to print W2 in QuickBooks
Select taxes and then Payroll tax.
Click on annual forms.
Choose all employees or one particular employee.
Hit W-2 copies B, C, and 2
Decide the year you want to print.
Hit view. At last, choose the print icon from the reader toolbar and then click on print.
Conclusion
Hopefully, you were able to reprint W2 in QuickBooks. However, printing W2 forms or any other federal tax forms or knowing how to print W2s on preprinted forms and how to reprint W2 in QuickBooks enterprise can become a challenging task. Thus, follow all the instructions mentioned above very carefully to prevent it from damage. 
Stuck with issues while printing W2 forms in QuickBooks Desktop? Get in touch with our Payroll Service team for a quick chat or detailed instructions over the phone 1800-280-5969.