All editions of QuickBooks Desktop including QuickBooks Pro, Premier, Enterprise and QuickBooks MAC desktop is capable of importing and exporting spreadsheets. While importing or exporting the worksheet in Microsoft excel, we might get an error message stating "QuickBooks Excel Could not Open the Data File". In this helpful blog, we will discuss the possible reasons and solutions to successfully move the data in and out of our QuickBooks Desktop.
QuickBooks cannot export to excel only CSV
Exporting reports and various lists in QuickBooks Desktop is set to default CSV format. This is the reason we might encounter issues and our QuickBooks cannot export to excel only CSV. However, we can still export the data in XLSX format if it is required. This could be done by making a few changes to the inbuilt features in QuickBooks.
QuickBooks export to excel
We can export various reports and lists from QuickBooks Desktop to the MS-Excel as an excel spreadsheet or CSV. The process of exporting is almost common with different versions and editions of QuickBooks. At times, however, users might get disappointed with errors like QuickBooks Excel Could not Open the Data File.
Exporting reports from Quickbooks Desktop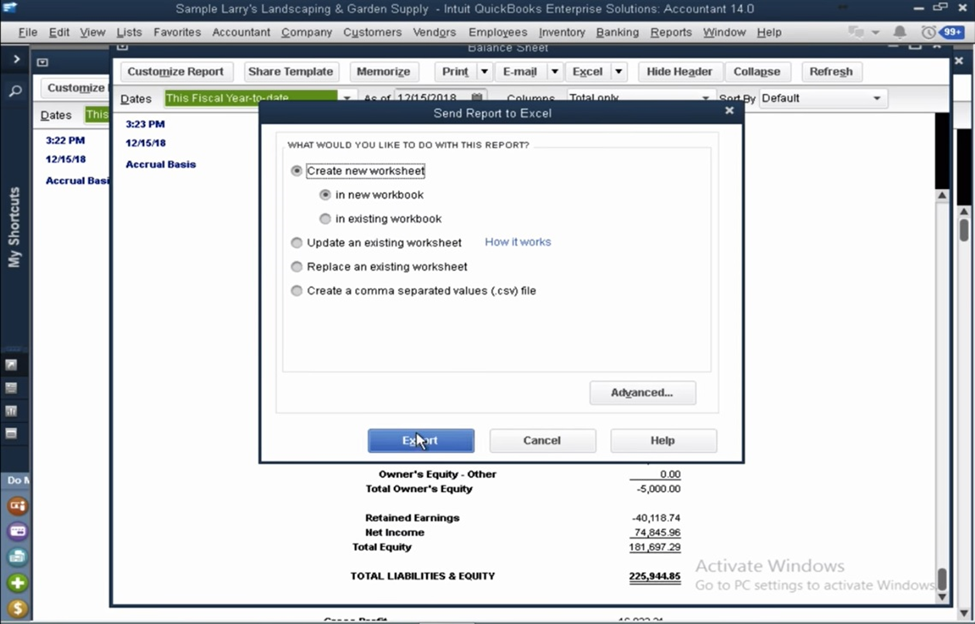 In QuickBooks Desktop click on Reports on the top menu bar
Open the required Report you want to export
Look for the Excel button on the toolbar and click the Excel button
If you wish to create a new excel worksheet, click on Create New Worksheet
Click Ok. If you want to open the Report instantly in Excel you may click the Export button.
Exporting reports from QuickBooks Desktop MAC
To bypass the error like QuickBooks Excel Could not Open the Data File, here's the proper method. "QuickBooks Desktop MAC enables you to export reports in spreadsheet Apple no. v3.5 and Microsoft Excel 2016 or updated version."
Click on the Reports Menu
Open the report you want to export
Select the Export tab
After the report is open you may select File, then click Save As
Changing the default application to open Excel Worksheets
Open the folder and locate the Excel File
Right Click on the file and select Get Info
Now in the Open with option, select Apple Numbers or Microsoft Excel
Click on Change All
Updating reports automatically in MS-Excel
Every time you make the changes to your QuickBooks company file, the relevant report is also changed with the updated changes. QuickBooks requires the setting up of exporting reports for the first time only. Once the export is successful, the Integration of MS Excel automatically refreshes the new changes. To Update the reports, you may follow the below simple steps:
Open the report as an MS Excel file and go to the QuickBooks tab on the top menu bar
Click on Update report and it will automatically populate the updated report
Exporting or importing lists in QuickBooks Desktop
QuickBooks Desktop comes with an inbuilt feature of importing and exporting various lists and transactions. Here we have listed a few types of lists you may be able to export or import from and to QuickBooks Desktop
Budgets
Sales tax codes
Customer messages
Customer and job types
Customers and customers: jobs
Chart of Accounts
Classes
Employees
Items
Notes
Other names
Payment methods
Payment terms
Price levels
Sales reps
Shipping methods
To dos
Vendor types
Vendors
Below are the transaction types you would be able to export or import
Account transfers of funds
Account beginning balances
Cash sales to customers
Credit card refunds to customers
Cash refunds to customers
Credit memos to customers
Credit card transactions
Checks
Deposits
General journal entries
Estimates
Invoices
Payments from customers
Purchase orders
Vendor bills
Vendor bill refunds
Let's get to know the step-by-step process of importing the data using the MS Excel file
Follow the below steps to import the data from the Microsoft excel sheet into the existing company file in QuickBooks Desktop
Step 1. Click on File and navigate to Utilities
Step 2. Click Utilities, select import, and then select Excel files
Step 3. Click No, if you see the Add or edit multiple entries prompt
Step 4. Follow the on-screen prompts in the open window

Step 4.1 Select the type of data
Step 4.2 QuickBooks will now open a pre-formatted worksheet. Enter your information as required and close the IT
Step 4.3 Select Add My Data Now
Step 4.4 Click Close after it's done
You may review your data in QuickBooks and verify it with the original excel worksheet.
Export from QuickBooks to Excel
Users can easily export Vendors, customers, payroll lists, and transactions from QuickBooks Application to MS Excel spreadsheet.
Exporting reports from QuickBooks to Excel allows you to change the report's appearance or contents as per your requirements. The best part about exporting from QuickBooks is that it does not make any changes to your QuickBooks company file data.
The below steps will be helpful in exporting lists or transactions:
Open Customer Center
Now, look for the Excel option in the toolbar
Select the Excel drop-down and choose Customer List
In the Export window, you may choose to create a new worksheet or update an existing worksheet
QuickBooks will now open the list in the MS Excel worksheet as needed
Exporting items in Excel:
Click on the List tab in the top menu bar and select Item List
From the toolbar click the Excel drop-down and select Export All Items
You may choose to create a new worksheet or update an existing worksheet
Click the Export tab and your list will open in MS-Excel
FAQs
How do I export a CSV file from QuickBooks to Excel?
Open the company file from which the data needs to be exported
Now, generate the report you would like to export
There's an excel button on the row at the top
Click the Excel button and select Create a comma-separated value (.csv) file
Can I export my data from QuickBooks?
Yes, you may export the data from QuickBooks Desktop and online both. This is the inbuilt feature available to all editions and versions of QuickBooks.
How do I export multiple reports from QuickBooks to Excel?
Multiple reports can be exported as PDF and Excel both. Processing multiple reports is available in the QuickBooks Enterprise edition.
Why can't I export to Excel from QuickBooks?
There could be several possible reasons if you are having trouble exporting data to Excel from QuickBooks. You need to have Microsoft Office or Office 365 installed on the same computer. Microsoft Office or Office 365 needs to be activated. Also, check if QuickBooks Desktop is updated to the latest release. Otherwise, you may face QuickBooks Excel Could not Open the Data File.
Why would you export data from QuickBooks into Excel?
If you need to customize the report and share it with someone who is not using QuickBooks as accounting software. Alternatively, you may also save the reports as PDFs and share them easily.
Can you open a QuickBooks file in excel?
QuickBooks company files can not be opened directly into Excel however we can export various lists, reports, and transactions in Excel.
Can I open a QuickBooks file without QuickBooks?
Data of QuickBooks company files can be exported to Excel to view the content. This can be possible with a few third-party applications available online. If you do not have QuickBooks Application installed on your computer and still want to open it. For the QBW file, you may contact us to get the contents delivered in Excel format.
Summarizing the topic
QuickBooks Desktop and Online both are capable of exporting data in Excel. We have documented all the possible scenarios of exporting data to Excel in this blog. We recommend you to directly reach our award-winning support desk at 1800-280-5969 for a quicker resolution to get you going with managing business with QuickBooks.
Recommended To Read
What To Do When QuickBooks Not Responding
QuickBooks Outlook is Not Responding- Try These 6 Effective Ways